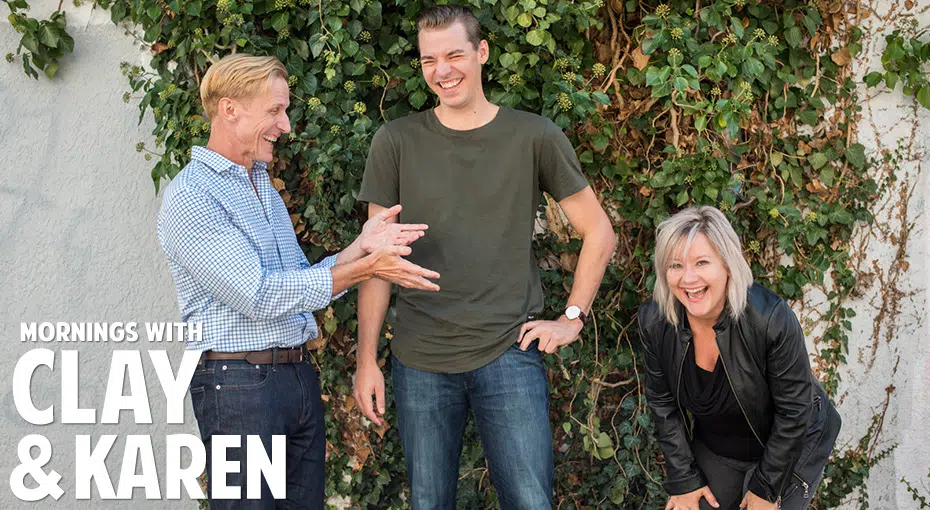 About Clay, Karen and Graeme
Weekdays 5AM – 9AM
"Mornings with Clay & Karen" features two glorious voices blended in the rich harmony of life. Did you buy that? Would you believe three lost souls scrambled together in the great blender of cosmic confusion? Every morning from 5 to 9AM they break down what it means to love the Lower Mainland, country music, pop culture, and JR's amazing listeners!
Clay St. Thomas is a dad, husband, broadcaster, actor, guitar picker, skin tag remover, chortler, beer snob, recreational gymnast, and collector of old Waylon vinyl.  In his spare time, he stares slack-jawed into the middle distance wondering how it all came to this.
Karen is a lover and a fighter, is that possible? A collector of fine wine in a box, and not so fine ex husbands. Loves long walks on the beach, and candlelit dinners, no wait, that's for a different bio!  Has studied salsa, both the dance and the sauce, and is quite adept at telling them apart.
Graeme was born and raised in North Vancouver. He is an ex hockey player, a terrible golfer, a sports fan, an avid music fan and concert goer, and a competitive Netflix marathoner. Seriously, he's medalled in it, if you need a new show to watch he's your guy. He spent 9 years of his life in post secondary school so in a way he is a lot like Van Wilder…just not nearly as handsome or charming. He loves really cute things like puppies and babies, but he also loves manly things like draught beer and good bourbon.