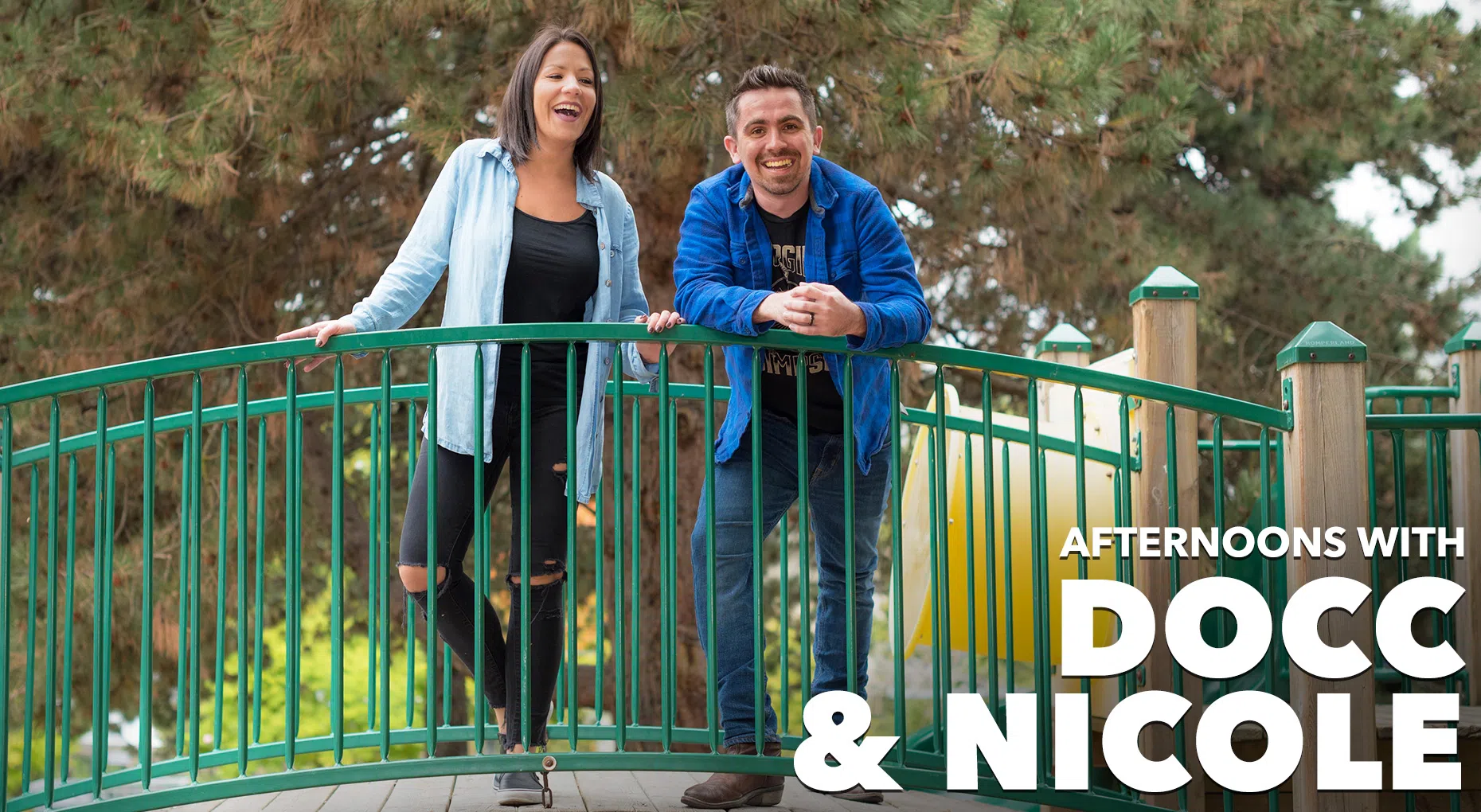 Afternoons with Docc & Nicole
Weekdays 2PM – 6PM
She's the sassy single girl from the city. He's the married guy from the 'burbs.
It sounds like the plot of a horrible sitcom, but it's actually the plot of a mediocre afternoon radio show in Vancouver.Docc  and Nicole are all about hearing from you, making you forget about your commute and playing good music.
The Docc and Nicole show is produced by Vancouver's own Ryan Reynolds.
Docc Andrews…a friend, a foe, a weirdo. Noah was allowed to bring 2 of every animal but only 1 Docc Andrews. And a very unique animal, he most certainly is. Sleepy in the morning, aggressive in the afternoon. Thick eyebrows and a powerful jawline. His handshakes come with meaningful eye contact, his hugs come with steaming bowls of satisfaction soup. He supports the troops. He is the love-child that Bruce Springsteen never knew he had. He swims in fire and feels no pain. He brushes his teeth with a lobster claw. He is married to Erin, a school teacher with a heart the size of a bowling ball. His Dad is friends with Meatloaf. He rises to the daily challenges that face us here in this seaside city of Vancouver BC. Weekdays 2-6 on JRFM. -Justin Trudeau (Probably…)
Nicole Savage was born and raised in Vancouver and she is definitely a proud Vancouverite. One thing you should know about Nicole, is even though she hasn't Irish danced in over 16 years, she's confident she still can. When she's not enjoying happy hour in Gastown, catching rays at Spanish Banks, she's trying to get lucky with some scratch and wins or catch her weekly fix of Real Housewives. She's not a super competitive person, but when it comes to flip cup, she definitely is. You can call her the flip cup queen, but her friends tend to call her Sav-daddy, or Nerd-cole. Always in good company, she's definitely the loudest in the room.