When I think of Comfort food… I think of melted cheese, hot, gooey and filling. Comfort Food, you also think of things that take hours to make. Well, the other night I made a 15-minute Steak dinner with cheesy mashed potatoes after work. I got home at 6 and we were at the table and eating at 630. It was cheesy, hot, gooey and filling.
I grilled up the steak on my grilling pan. And while that was going, I had little nugget potatoes boiling in a pot. The trick to 15 minute meals, is the smaller the pieces are the faster they'll cook. So even if you don't have little nugget potatoes, if you chop up your russets into small cubes, they'll cook just as fast.
I shredded up some cheddar cheese, and sliced up brussel sprouts really, really thin. If you don't like brussel sprouts you can do broccoli.  Once the potatoes were done I mashed them with butter, put the veg in there to cook with the heat and then mixed in the cheese. Seasoned with salt and pepper. Ooey gooey potatoes! After the steaks were done resting, I sliced them thin and tossed them in an olive oil, dijon mustard, lemon and parsley dressing. YUM, this dinner was hearty, cheesy, tangy and delicious. So comforting on a cold night. Obvs, after Mikayla went to bed I got into my cozies and watched the premier of the Bachelor.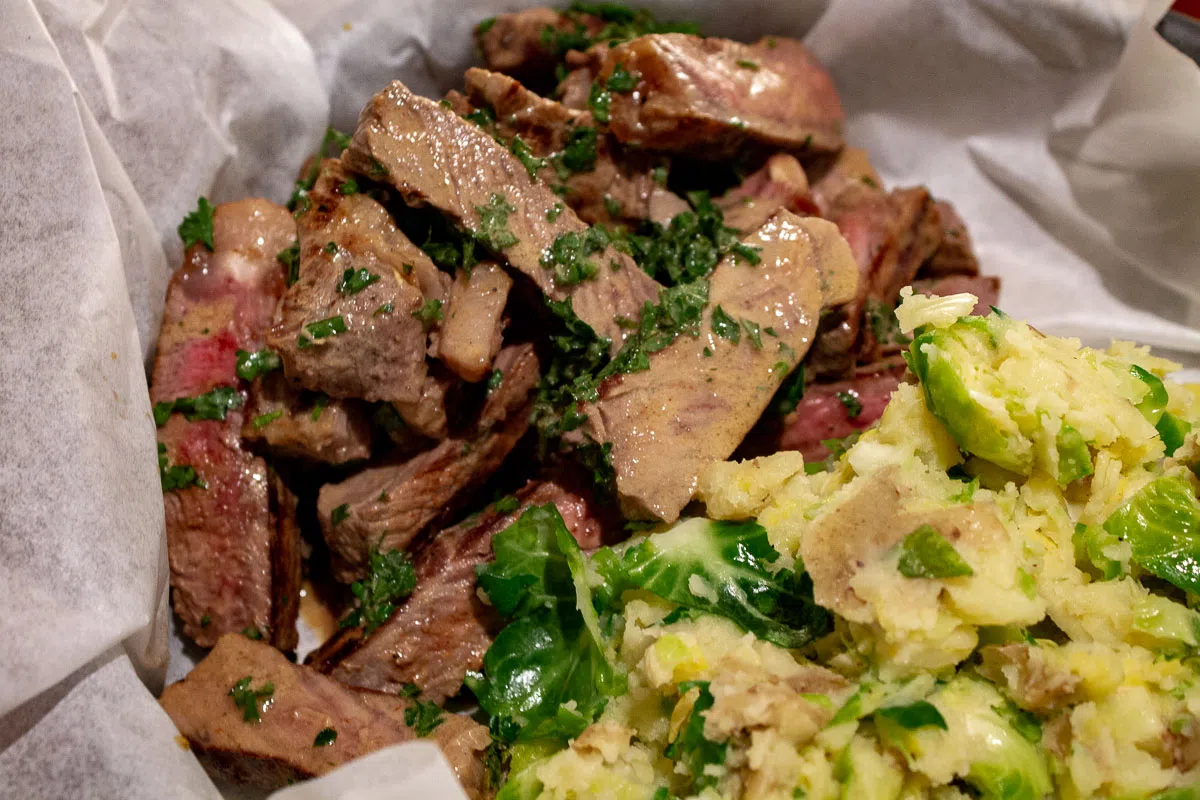 Steak & Dressing with Cheesy Mashed Potatoes
Serves: 2 
Ingredients
Steak:
2 steaks of your preference
Smoked Paprika
Salt
Pepper
Dressing:
Juice from half a lemon
2 tbsp Olive Oil
1 tbsp Dijon Mustard
Salt
Pepper
1/2 cup Chopped parsley
Mashed Potatoes:
Nugget Potatoes
Brussel Sprouts or Broccoli, chopped finely
1 cup Cheddar Cheese, grated
2 Tbsp Butter
Milk
Directions:
Turn stove top on, get water boiling, add salt to water and grill pan on medium high.
Season steaks. Sprinkle on each side salt, pepper and paprika. Once grill pan is hot, place steaks on and press them down to get the grill marks. 4 minutes on each side for medium.
Get potatoes into boiling salt water. Chop veg into fine pieces. Grate cheese.
When the steaks are done, place them on a board to rest.
In a medium bowl, mix together lemon, olive oil, dijon mustard, parsley, salt & pepper.
Slice steaks into 1 cm slices (against the grain of the meat) and toss in dressing.
Drain and mash potatoes with butter, a bit of milk then add veg and cheese.
Serve and enjoy!
---
Other quick n' easy comfort food dinners would be:
15 Minute Garlic Shrimp Zoodles
Do you have a spiralizer? Make some Zucchini noodles! These babies cook sooooo fast.
I also like to add some parm to this recipe.. cus well… I like cheese. Here's the recipe.
15 Minute Coconut Curry Noodle Soup
Anything coconut, I'm down for. YUM this is my kinda comfort food. It has a little heat and it's super creamy. Want to add protein? Just pan fry cubes of skinless, boneless chicken thigh or a filet of cod and crumble it into the soup. Here's the recipe.
15 Minute One Pot Cheesy Ravioli with Sausage
This one is kid-approved! It's a favourite at our house and is so easy to make since… the ingredients are easily found in any grocery store and usually made for you. Here's the recipe.
15 Minute Honey Garlic Chicken
If you follow me on IG, I've done this recipe LIVE a few times with my 2 year old daughter's help. My husband can makes this on his own too… (which means it's a fave go to in our house). My only sub is that I swap out the chicken breast for boneless, skinless chicken thighs. Thighs cook faster and they're tastier. Here's the recipe.
15 Minute One Pot Protein Pasta
This is vegetarian but you can add more protein if by pan frying some boneless, skinless chicken thigh cubes or frozen peeled and deveined prawns. Here's the recipe.