I sift through all the really crappy Christmas music so you don't have to!
Day One (Dec. 6/18) – "Sleigh Ride" by The Lost Fingers
This Quebec trio/sometimes quartet are amazing technically and loads o'fun. Their whole thing is amazing covers done in the gypsy jazz style that nods to their namesake Django Reinhardt (who didn't let the loss of a couple fingers in a fire slow down his guitar game). Special nod to vocalist Cyrille Aimee for her scatting chops.

Day Two (Dec 6/18) – "Christmas Time (Is Coming 'Round Again)
I've long said, "no one wants to hear your original Christmas song". Sorry. You probably worked very hard on it. The reason so few new songs work at Christmas is precisely because they don't feel like Christmas, a celebration built on the memory of traditions.
So I was delighted to be proven wrong with the Maverick's new album, "Hey! Merry Christmas!". Check it out. A whopping eight of it's 10 tracks are new songs, and of those I've added five to the 3000+ tunes on my holiday playlist…a very big deal for a purist. "I Have Wanted You For Christmas" is wistful and sweet, "Santa Does" is a finger-poppin' ode to the big man, and "Santa Wants To Take You for a Ride" is innuendo-fully dirty.
On "Christmas Time (Is Coming 'Round Again)" Raul Malo and crew prove that all a new Christmas song needs is to do is sound and feel like a classic people already love.
Day 3 – (Dec 10/18) – "Silver Bells" by John Legend
John Legend's new Christmas album is solid. First of all, props for playing with Bing Crosby's classic album art: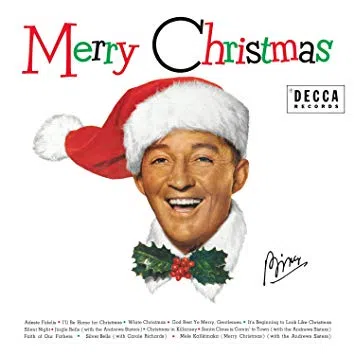 Second of all, John Legend's just good. His take on Silver Bells channels a 'Philly Soul' vibe that shines. Nice!