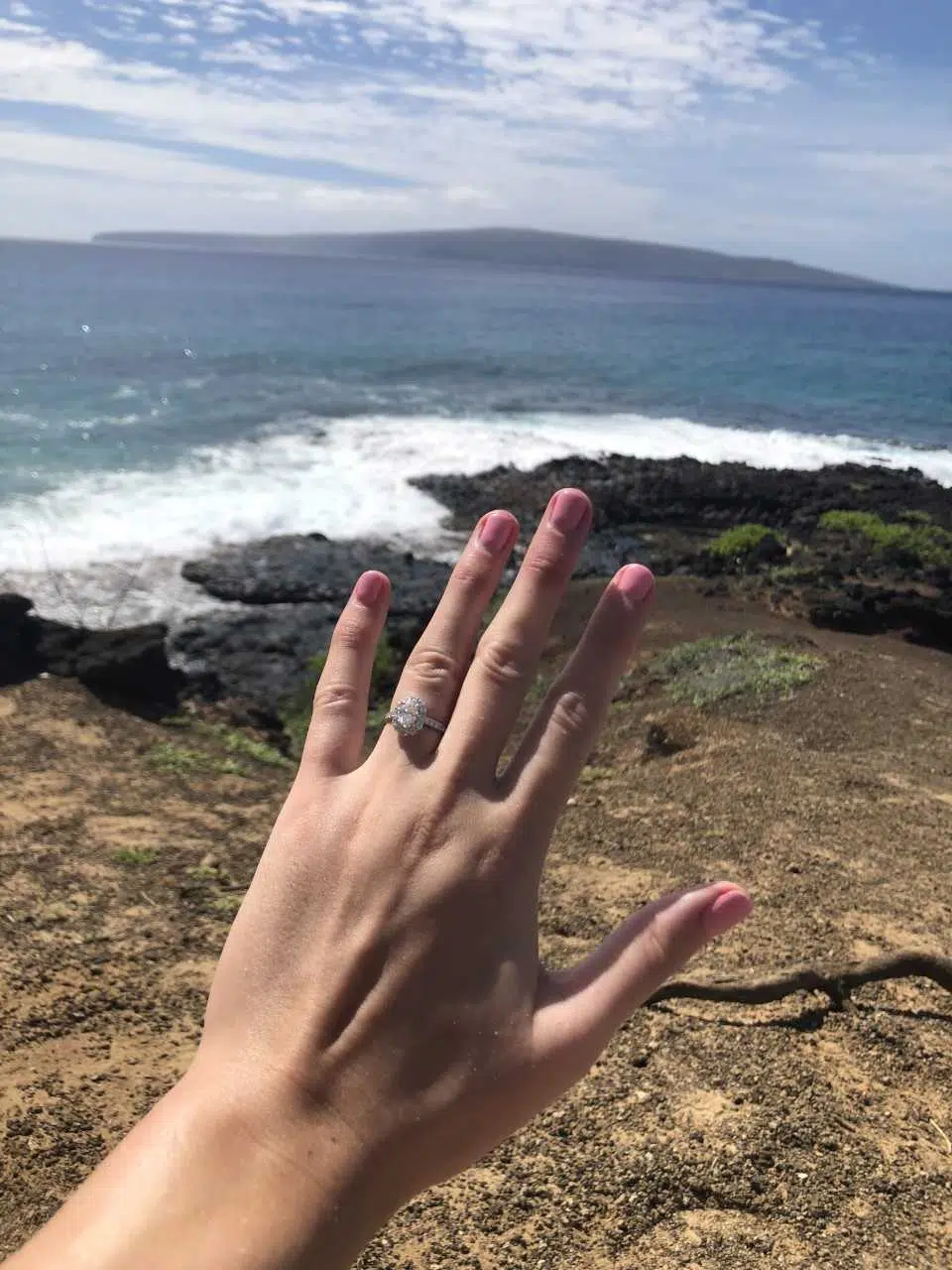 Being in love is a super cool thing. Super cool! If you have found your human it is generally pretty awesome. The love and the sharing and the caring and yada, yada, yada. You get it, it's great! You have found the person you want to spend your life with, fantastic! Asking that person to marry you…terrifying, confusing, and slightly panic inducing.
I didn't know the first thing about getting engaged. I knew there was a ring of some sort and then generally some dropping to a knee, followed by a little something heartfelt. That's all I had to go on. So, obviously, I had to do some studying. After consuming every possible Ryan Reynolds Rom-Com I was feeling pretty good, pretty confident. However, I still knew jack shhh about engagement rings. Thank goodness for my guy George at Lugaro!
George has 25 years in the game and is a diamond expert. He helped me out big time, working within my budget to make Alex the perfect ring! Now a little birdie told me that there just may be a contest in the new year where George will help you out too, but that's something for a different day.
Now, before you even go to a jewelry store you need to do some reconnaissance. What kind of ring does your partner want? I mean you could definitely just ask them straight up, but that's gonna ruin the surprise. You gotta be stealthy. There are a couple of ways to scout out what kind of ring your partner wants. If you have been together for a long time just steal their phone, go through Pinterest, there's probably some rings in there. When in doubt a little help from a best friend or sibling goes a long way. Alex's sister was a big time MVP, she provided me with a full scouting report and ring size. I had a lot of good information on what type of ring would really blow her mind. When I got to Lugaro, George took all that info an built the perfect ring (within my price range!!).
So now that I have the perfect ring for my partner, all that's left is to ask. I recommend a little more planning than I did, but the anxiety of carrying around a ring will probably make you just spit it out as soon as you can. For real, it's scary walking around with that thing! Also, don't propose wearing only a bathing suit…there are not a lot of places to hide that box. I had to…well, I won't tell you where I hid it, but it was uncomfortable! I would also recommend having a little something more heartfelt to say than " doooo you wanna spend the rest of your life with me??" in a fairly high pitched voice. I mean it worked, but ideally…do better than that!
Thanks again to Lugaro, George, and Alex for saying yes, that was pretty cool!
Check out Lugaro on their socials:
Good luck to everyone doing the whole getting engaged thing, it's a good time!
Oh yeah and make sure you are listening in January for a little extra help.
~ graeme