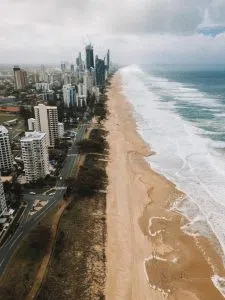 As I gear up for my 3 week trip DOWN UNDA, I'm crossing my T's and dotting my I's with all of the things I need to deal with before I go. Travelling can be extremely stressful and frustrating if things go awry. So why not try and have all of your bases covered so no matter what comes up – you're prepared for it.
I LOVE to travel, and I always try to sneak at least one trip in a year, especially if I can plan it around my birthday
This year, I decided to take advantage of a huge flight sale on Air New Zealand, and booked a 3 week trip back in February. That 3 week trip is now JUST around the corner, and although I'm no pro, I've done enough trips over the past few years that I've got a decent system down pat.
In preparation for my trip, I thought it would be helpful to share my travel "tips" to motivate YOU if you're planning on going away, but to also motivate myself in tying up all those last minute loose ends.
First off, if you're a frequent flyer or just cross the border on a regular basis and you do NOT have NEXUS –

What.Are.You.Waiting.For!?NEXUS wont help me much in New Zealand and Australia, but it will let me bypass those ridiculously long and stressful security checks out of and into YVR, and the beauty is you don't even need to take your shoes off!



It's stressful enough when you've got your carry on, your laptop – which you need to scramble to take out and put back in it's case with zero seconds to do so), have your boarding pass, passport, a coat and a carry on to deal with, not to mention children or a partner who is useless (sorry not sorry). 

Saving that extra step with your shoes is a real treat, AND there's just way less pressure in the fast lane because everyone is on time, strolling on through and not stressed about missing a flight.
 I highly recommend you apply for it. It took me about 3-4 months from applying to interviewing to getting the card, and it lasts 5 years or until your passport expires.
Speaking of

PASSPORTS

. Have you checked the expiry date recently?
Make sure it is not expiring within the next 6 months as most countries will not allow entrance with 6 months or less remaining on your passport. Which is dumb considering you pay for FULL years on a passport, but you don't really wanna mess with travel and be stranded on another continent with no way out. Streeesssssful.
Also stressful? Hurting yourself in any other country than our Glorious and Free Health Care system. That's why you ALWAYS get Travel Insurance. I'm the daughter of an insurance agent, so I've been raised to be extra crazy about it. I get it even if i'm going to the States for a couple hours. Don't skimp on insurance. It can literally save your life and your life savings (what are thooooooose?!). You can get it online and it's fairly inexpensive ($25-$40 on average).
Notifying your BANK

– some banks require a heads up, some don't. But it's better to wait on hold due to "unusually high call volumes" when you're at home rather than a long, long distance call away once your card has been declined and you have no money left. 
Confirming if the country you're entering requires a Travel Visa.

I just found out that Australia requires you to apply for a travel visa. Even if you're going for a few days! It was super easy to get and was approved same day and will be associated with my passport.
I shudder at the thought of them asking where my visa is and me having NO IDEA what they are talking about.
Switching your Currency before you go.

This one is so easy to forget "Ah, I'll just get it when I'm there". The con of waiting = $$$$$$. You're spending your travel money on getting other money. There are inexpensive spots around town (NOT the bank) that will trade it for almost cost and save your hard earned dollars to be spent on the trip.
Researching beforehand. Obviously you'll research where you want to check out before you leave. If you're waiting to book a hotel, a rental car or an excursion – check out a few different options and save them somewhere (like in your notes on your phone, or in a notebook) so if you need to access the info quickly, you'll already know the best options.
Those are the main boring, housekeeping tasks to deal with. Now for packing. The most torturous travel task (in my opinion).
Everyone has their own way of PACKING, so I'm not going to get into too much detail with mine. But, my main tip to prevent over packing is:
Plan your outfits out before you go!
I swear by this, my friends swear by this. Not only does this save you time once you're on holidays and don't wanna be wasting precious moments on figuring out a stylish 'fit, but it helps ensure you're only packing stuff you know what to do with, nothing more, nothing less.
Try everything on before you pack it.

When you arrive there will be no surprises. You know you like everything in your suitcase, and you know everything can be worn in a specific way. Take pics of each and save them on your phone if you wanna be super prepared. (I do!)
Some people totally don't care, and that's cool too, but I care and this system always works very well.
As for SHOES. (Which are SO freakin' heavy) – find one pair of neutral TRUSTY heels/ dress shoes that you can wear with any/all of your dressy/night outfits. A pair of running/hiking/walking shoes (which are usually light) and another pair of comfortable walking shoes. God forbid the first pair decides to give you blisters… you're gonna need another option. Flip flops ALWAYS. Even if you're going somewhere not summery/beachy/hot. You will be grateful for them if you end up needing to use a public shower they will be there to protect your feet from the unknown. Or if you need to go on an ice run down the hall, or if your blisters are out of control and you just can't shove your foot into another shoe. You never know!!
Whatever shoes are the HEAVIEST – pack them in your carry on. They don't weigh your carry on and this free's up more weight flexibility in your checked bag.
Flight Necessities:
I always overpack books, which is silly because they are the HEAVIEST.
If you wanna bring books, pack them in your carry on, and do a quick preview. Open each book to a random page, read the page and if it excites you, bring it. If not, leave it. You can read boring books at home.
Headphones.

Do. Not. Forget. Your. Headphones. Imagine your dismay, when you're sat directly in front of the screaming baby who decides to have a melt down for the entire 7 hour flight and you have absolutely no escape. Be smarter than that baby. Playlist, headphones, volume 11. Goodnight baby.

A pen.

How often do they hand out a form that you are REQUIRED to fill out by the end of the flight, an entire plane of people are to share one pen? Scratch that. You have your own pen. The true hero of Row 16!

Hand Sanitizer.

No explanation needed.

Neck Pillow.

I used to think these were so pointless. Until I got one in leopard print (drunk purchase en route to Cabo). Anything 5 hours or longer and this is the best invention. You can flip it around, wear it to the left, right, back, front, and you can actually sleep decently without cranking your neck.

Snacks.

As per your own interests, but always grab a water. I can't count how many times I've kept that airport water bottle well into my trip for handy refills keeping me hydrated. Yes I know I can buy another water bottle, but trying to be less wasteful is nice too.

Chargers.

DON'T FORGET YOUR CHARGERS! Phone, camera, laptop etc.




Charge up your

portable chargers

too! Your life, maps, directions and many travel docs live on your phone. You gotta make sure you've got juice at all times.

Notebook.

Journalling is something everyone could do more of, and if you're on a special trip you have the memories in your brain and the photos you take. What about sharing with your future self the random moments, or thoughts, or feelings of excitement or fear, that you can look back on in a year or 10 and relive it all? It's a gift to yourself. This is something I'm going to try and focus on during my trip, I will share my adventures with you, too!
And for the most important ingredient of the entire trip??
This is your time to shine. This is your vacation! You've put a lot of money and time into this special occasion, SOAK IT IN. Immerse yourself entirely in each moment. Be present. Feel your excitement, wonder & wanderlust. HAVE A GREAT TRIP!
~KM