Thanksgiving, bringing out family dysfunction since… since forever. But one thing everyone can agree on is GOOD FOOD! 🙂 If you're bringing something to a potluck, here's a collection of easy, crowd-pleasing Thanksgiving Potluck Recipes that I'll be using this season.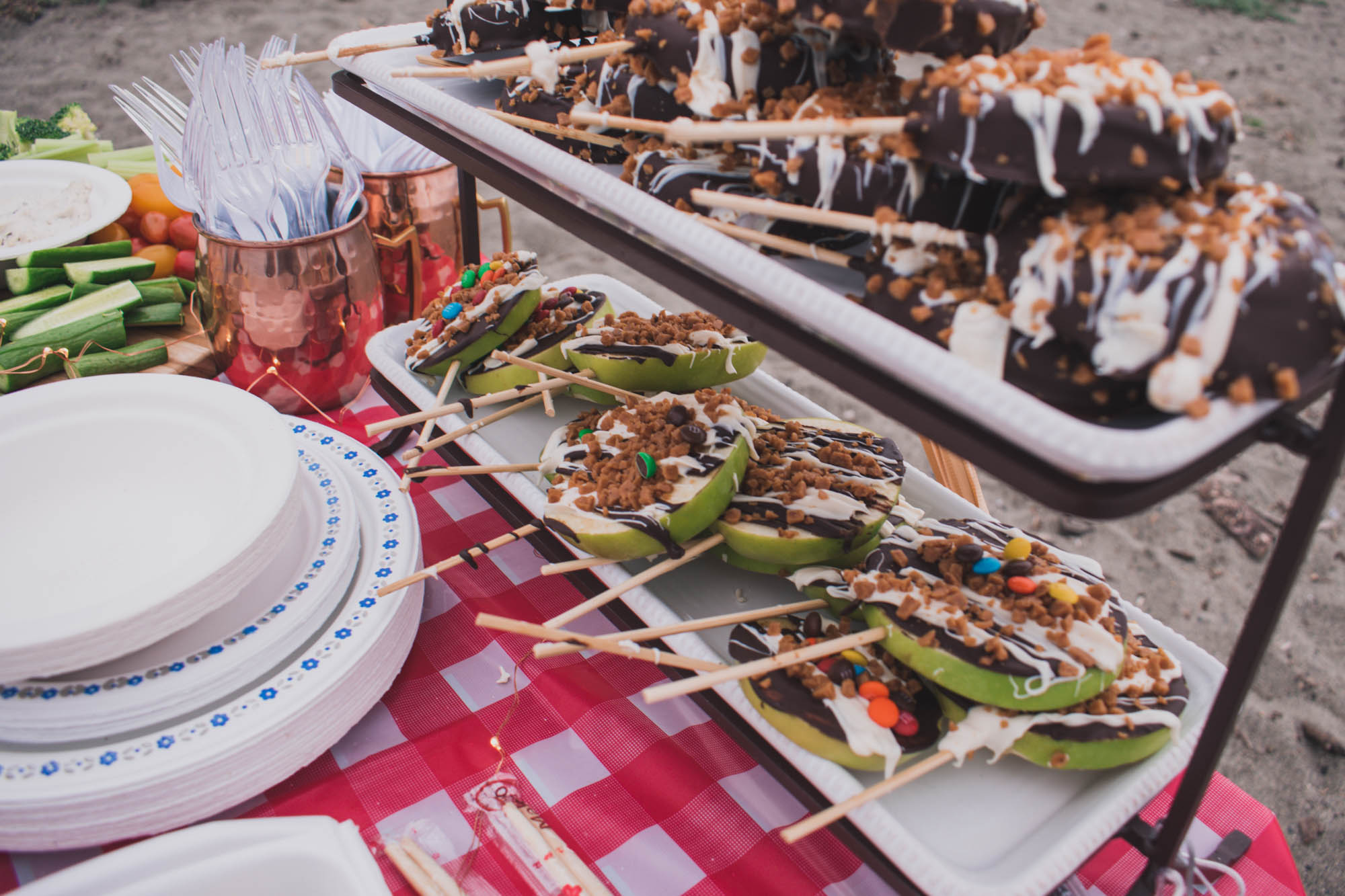 Caramel Apple Slices
Impressive, tasty and the easiest way to make a tasty treat out of an everyday kind-of fruit! I have to hand it to my friends Hayley and Vishal for bringing this to my birthday potluck. These tasted as good as they looked.
Ingredients
Apples
Wooden Lollipop Sticks/skewers
Chocolate, melted
Caramel (the ones that come as cubes), melted
Toppings, like toffee bits, mini m&ms – optional
Directions
Wash & slice apples about 1/2″ thick, remove the seeds, insert the stick at the bottom, & pat the apple slices dry to remove water and extra juice, with a paper towel.
Cover each apple slice in melted chocolate place on a piece of wax paper to cool and harden.
Next, drizzle the caramel & other toppings on top of your apple slices.
Let harden, or place in the fridge to speed up the process. Then take it to the party and enjoy!
This dessert is best enjoyed the same day they're made.
Roasted Broccoli, Sweet Potato and Beets
Classic and super easy roasted veggies in Autumn colours! Serves 8
Ingredients
2 large sweet potatoes, peeled and chopped into approx. 1-inch cubes
2 large heads of broccoli, chopped
4 medium beets, chopped into cubes
2 to 3 tbsp of extra virgin olive oil
Salt & Pepper
1 tsp garlic powder
1/2 tsp oregano
1 tsp smoked paprika – optional
Directions
Preheat oven to 400 degrees. Place veggies on a large baking sheet, drizzle on olive oil and mix. Sprinkle salt and pepper and seasoning and mix well. Spread seasoned veggies out evenly on baking sheet and place in oven for 20-30 minutes or until sweet potatoes and beets are tender, tossing halfway through.
Italian Style Roasted Brussel Sprouts
This is a family favourite! Who knew, Brussel Sprouts would make a comeback to our table after "re-discovering" them at Romer's Burgers! Serves 8
Ingredients
2lbs of Brussels Sprouts, wash, cut ends off and cut in half
2 to 3 tablespoons of extra virgin olive oil
juice from half a lemon
3 cloves of garlic, chopped
salt and pepper
1/2 cup of Parmesan cheese, finely grated
Directions
Preheat oven to 400 degrees. On a large baking sheet, spread out your Brussels Sprouts.
Drizzle olive oil over them and mix. Spritz juice from half a lemon, sprinkle garlic on top and salt and pepper and mix.
Put in oven for 30 – 40 minutes or until lightly brown and crispy looking, tossing halfway through.
When they're done sprinkle parmesan cheese over top and enjoy!
---
Here are some other tasty potluck-friendly looking recipes I found while scouring the internets…
Happy Thanksgiving!