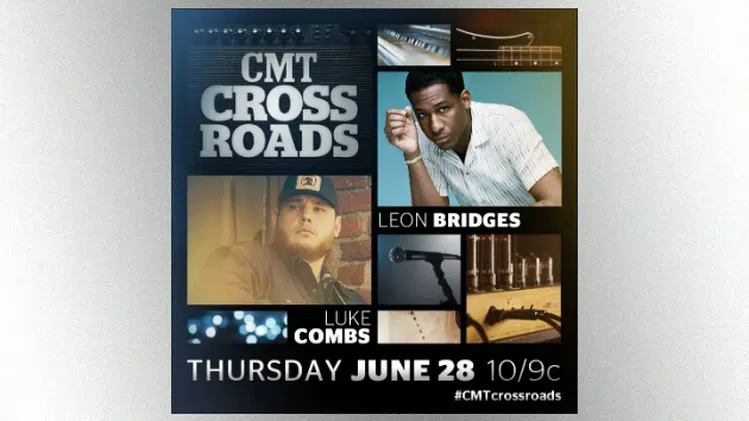 Luke Combs will team up with R&B sensation Leon Bridges for a special edition of CMT Crossroads. The outdoor concert will be taped before a live audience in downtown Nashville on Broadway on Tuesday, June 5th. CMT Crossroads with Luke and Leon will premiere on Thursday, June 28th.   If you're in that neck of the wood, fans are invited to join the free taping at 5th & Broadway on June 5th where the gates will open at 7 p.m. and the show begins at 8:30 p.m.
Fans can expect to hear the two stars performing favorite tracks and anthems together from Luke's gold-certified debut album, This One's For You, Leon's Grammy-nominated debut, Coming Home, and his brand new sophomore release, Good Thing, as well as the two uniting for covers of their favorite iconic songs.
Leon Bridges is a two-time Grammy nominee whose 2015 debut album Coming Home drew comparisons to Sam Cooke and Otis Redding. His work in country music includes the Kacey Musgraves collaboration "Present Without a Bow" from A Very Kacey Christmas and work with the Texas Gentlemen, one of the most in-demand backing bands out of the Lone Star State in recent memory. His sophomore album Good Thing was released on May 4, and critics praised the collection for its modern R&B sound, lush production and joyous songwriting.
Luke will release the deluxe edition of his album, This One's For You Too, on June 1st.