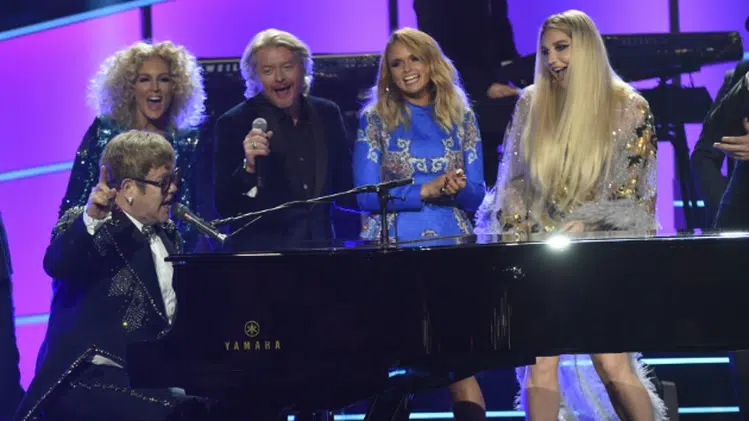 Maren Morris, Little Big Town and Miranda Lambert cover some of the best-loved songs of Elton John, when I'm Still Standing — A Grammy Salute airs Tonight, April 10 on CBS.
LBT adds their signature harmonies to the hit "Rocket Man," while Maren tackles the fan favorite "Mona Lisas and Mad Hatters." Miranda does "My Father's Gun," a deep cut from Elton's Tumbleweed Connection album.
Other stars appearing on the show include Ed Sheeran, Miley Cyrus and Lady Gaga.
Elton himself will perform a medley of his hits from his five-decade career, including "Bennie and the Jets," "Philadelphia Freedom" and "I'm Still Standing."
Here's a complete look at the songs featured in the two-hour special, which premieres TONIGHT April 10 at 9 p.m. ET on CBS:
"The Bitch Is Back" – Miley Cyrus
"Candle in the Wind" – Ed Sheeran
"Daniel" – Sam Smith
"I Guess That's Why They Call It the Blues" – Alessia Cara
"Your Song" – Lady Gaga
"Rocket Man" – Little Big Town
"Border Song" – Recitation by Hamilton star Christopher Jackson, piano accompaniment by Valerie Simpson
"Don't Go Breaking My Heart" – SZA & Shawn Mendes
"Mona Lisas and Mad Hatters" – Maren Morris
"We All Fall in Love Sometimes" – Chris Martin
"My Father's Gun" – Miranda Lambert
"Goodbye Yellow Brick Road" – Kesha
"Don't Let the Sun Go Down on Me" – John Legend
"Bennie and the Jets" – Elton John
"Philadelphia Freedom" – Elton John
"I'm Still Standing" – Elton John and Ensemble
Michele Crowe/CBS